Contact
Please contact us for further information about our services. Our specialists will respond to you directly. For further information about the distribution of our funds, please
contact our sales team
.
Five years have passed since Shinzo Abe became Prime Minister, promising to revive Japan's economy and end its persistent deflation with his ambitious Abenomics programme. Recently, however, his standing has suffered and his future briefly seemed to be put in jeopardy by his potential implication in the Morimoto scandal. While the scandal is now almost certainly behind us, the dramatic temporary decline in Abe's ratings show the fragility of his support. Against this backdrop, it seems appropriate to reassess the progress that has been made in Japan in recent years and to raise questions about the future of Abenomics.
The good…
In September 2013, when I wrote the first article on this subject, it became more and more evident that the aggressive monetary policy and resulting depreciation of the yen would help beat back deflation and create a more favourable business environment. Since then, corporate profits and stock prices have been engaged on an impressive upward trend and the economic situation has greatly improved. Exports have grown significantly due to the yen's depreciation and the strength of the global economy, while domestic demand and investments from private households, corporates and public bodies have improved on the back of higher confidence indicators and looser monetary policies.
While, at least in the short term, the monetary and fiscal policy elements of the agenda have proven successful, the jury is still out on the success of the structural reforms, the so-called third pillar of the Abenomics programme, and undeniably its most important. In March 2014, I wrote an article about this. Since then, reforms and policy measures have led to improvements in areas like the female labour participation rate, corporate governance and inbound tourism, three of the most tangible success stories of Abenomics.
Inbound tourists (in millions)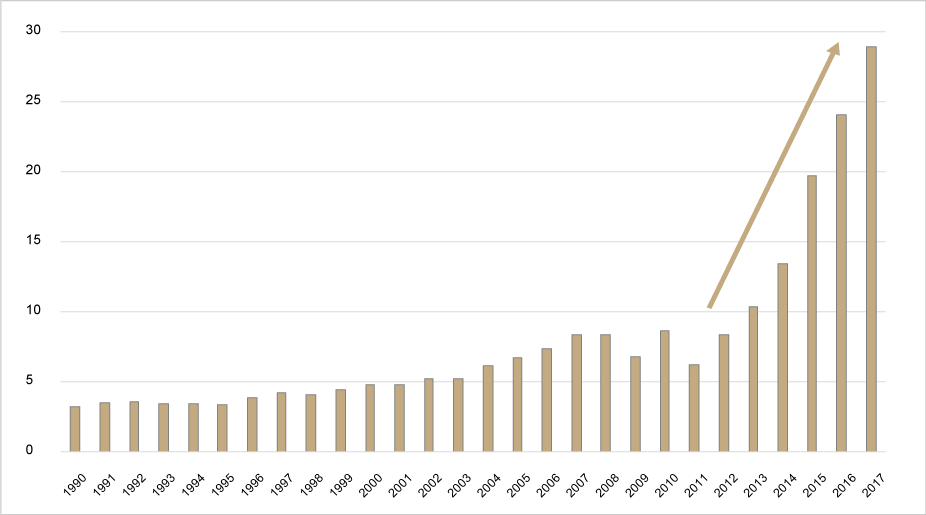 Source: Japan Tourism Marketing Co.
Japan female labour force (in millions)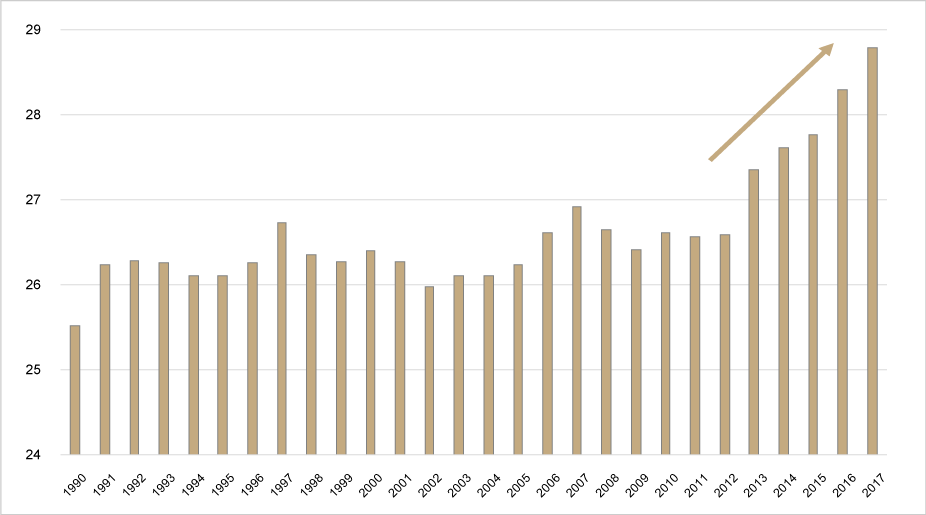 Source: Ministry of Int. Affairs and Communications
Our Japanese portfolio has benefited from these positive outcomes. Global manufacturing companies like Fanuc, the world leader in industrial robots and CNC systems, Komatsu, the world's second-largest mining and construction equipment manufacturer and Tadano, a manufacturer of industrial cranes, are among the many examples of beneficiaries of the weaker yen. Domestic retailers like Japan's largest discounter Don Quijjote and cosmetics companies like Kose and Kao have seen their share prices buoyed by the boom in inbound tourism. Persol Holdings, a provider of temporary staffing services, has a long record of accomplishment in giving women the opportunity to access part-time and temporary jobs. It has been a prime beneficiary of the government objective to increase female participation rates. Improvements in corporate governance and higher demand from domestic pension funds have led to increased demand for quality growth stocks, which constitute the bulk of our portfolio. The relationship between the portfolio's performance and the changes in corporate governance was discussed extensively in a blog published in 2015.
Performance of BL-Equities Japan compared to the MSCI Japan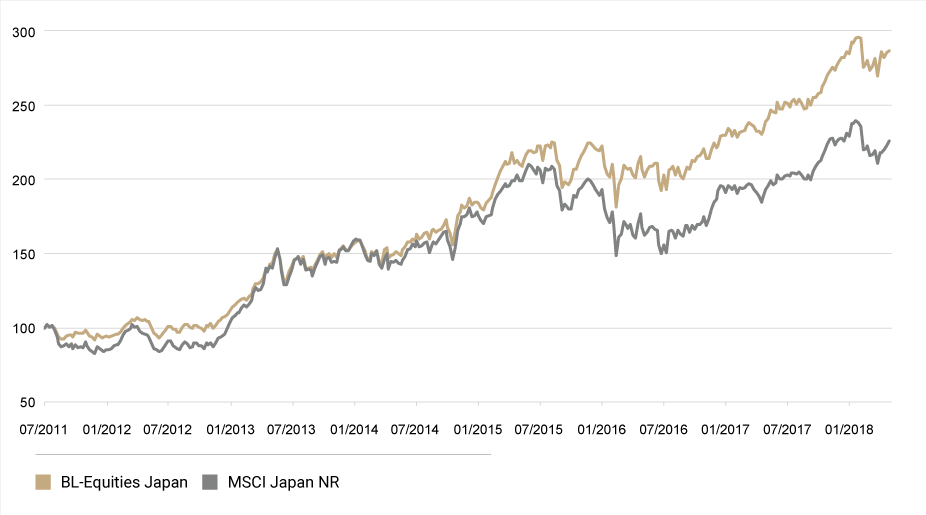 Source: Bloomberg
... and the bad
But not everything in regard to Abenomics has come up roses. Critics rightly point to the slow pace of reforms in several key areas. According to Bloomberg Economics' Yuki Masujima, stalling growth in labour productivity is a key failure of Abenomics. Many experts are also disappointed by the slow-moving work-style reforms. These reforms incorporate elements that would help reduce chronically long working hours, lead to a better work-life balance, reduce wage disparities among genders and types of workers (regulars and part-timers) and encourage workers to move more easily from companies with low productivity to those with higher productivity.
Their implementation is considered crucial because they are directly linked to one of Japan's biggest problems, its demographics. Not only has Japan's population begun to decline and is ageing, but what is especially worrisome is that the proportion of people of working age is decreasing rapidly. Between today and 2040, the segment of the population aged between 15 and 64 is forecast to decline by about 17 million, corresponding to about 1/4 of the nation's current workforce. In light of these developments, the increase in the female participation rate only seems like a drop in the bucket.
Japan demographics (in millions)
Sources: Worldbank, NIPSSR
An article published in the Japan Times two years ago deals with these issues and illustrates very well how difficult it will be to cope with them in the future. The challenges seem so big that the current concepts behind Abenomics are not nearly elaborate enough to address them.
Avoid the ugly, go with the beauties
So, the questions whether the reform programmes will be implemented or not, and whether Abenomics will fail or succeed, are too short-sighted. The demographic headwind exists and will persist! This fact should be borne in mind when investing in Japan. The key is to invest in companies with strong competitive edges that allow them to grow and remain profitable even in this difficult environment and without being overly dependent on a potential positive outcome of Abenomics.
When investing in export-orientated companies, the demographic issues are less important, as their growth potential mostly lies outside Japan. Approximately half of the companies in the portfolio belong in this category. When investing in companies focused on the domestic market however (and this is the case for the other half of the portfolio), considering these structural issues is very important.
Labour shortage in certain key sectors risks affecting several industries for years to come. In the last couple of years, we have initiated positions in companies that are well positioned to benefit from a more dynamic labour market. In addition to the above-mentioned Persol Holdings, we own shares in SMS, a provider of recruitment agency and advertisement services for professionals in the field of nursing and medical care, and Recruit Holdings, Japan's leading HR-related service provider and parent company of Indeed, the world's biggest job-related search engine. Recently we also initiated a position in TechnoPro Holdings, a technology-focused staffing company, specialized in dispatching engineers to clients across a wide range of industries.
Another area where we find investment candidates, despite the demographic challenges, is in the retail sector, a notoriously overcrowded segment. The difficulty in finding skilled labour is one reason why the many unprofitable companies have to be left behind and why companies that are customer–orientated and strongly committed to profitability will succeed. Market consolidation is inevitable! Those companies that are best positioned to win market share at the expense of these weaker competitors are the market leaders like Nitori Holdings, number one in the furniture market, Ain Holdings, the country's largest pharmacy chain, or ABC-Mart, Japan's largest shoe retailer.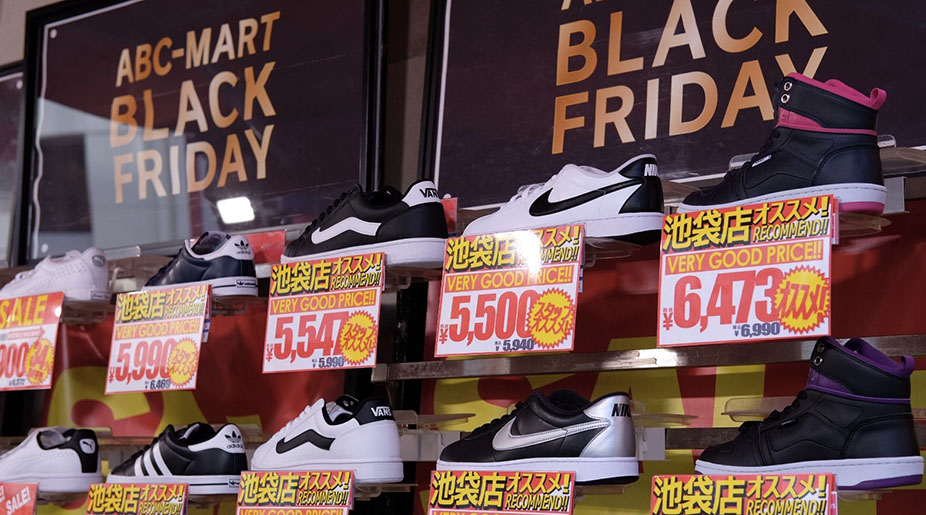 We also find investment candidates among companies that are beneficiaries of an ageing population. Secom, a quasi-monopolist in security services, has extended its offer to emergency services for elderly people living alone and access systems to residential homes, and it is seeing high demand from older people for alarm systems. Ship Healthcare offers a comprehensive offer for the development and renovation of hospitals and care homes, facilities that will remain in high demand. Its main growth opportunities lie in the modernisation of existing hospitals and bringing them up to the strictest seismic norms. The demographic structure also works in favour of Seven & I Holdings, Japan's largest convenience store chain. Its stores are particularly frequented by people who live alone, couples working full time and the elderly – demographic categories that are bound to grow.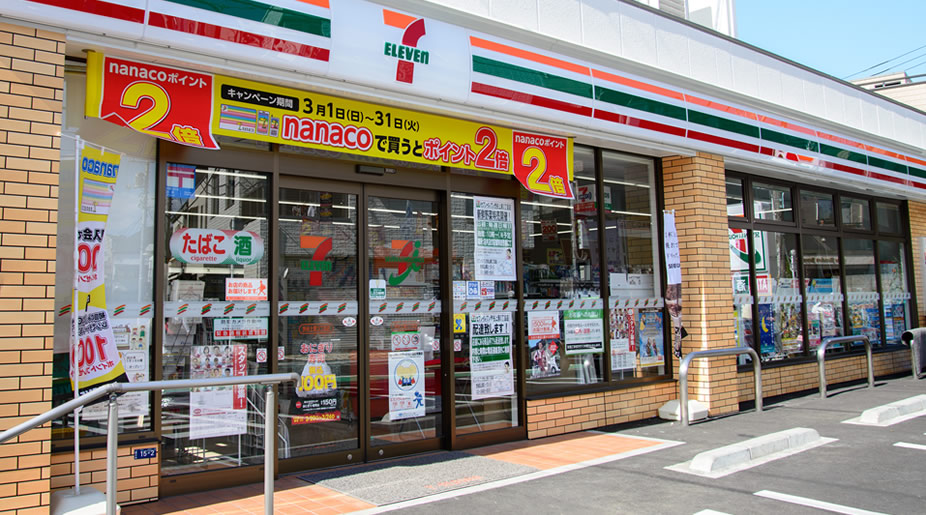 Doubts about the economy? Invest in strong businesses!
Abenomics has certainly helped improve the outlook for Japan. The economy has now been growing for several quarters in a row and corporate profits are at record highs. The improvements have come at the expense of deteriorating public finances and the BoJ's interventions on the stock market are anything but reassuring. Furthermore, and most importantly, the demographic challenges remain huge.
In this environment, it is very important to be selective when looking for investment ideas. Even if it is difficult to predict the country's future orientation, many of Japan's best companies are definitely moving in the right direction. Strong businesses which benefit from competitive advantages and are present in segments that offer structural growth opportunities will be able to remain highly profitable and create shareholder value over the long term. They should turn out to be attractive investments, even if the road to economic recovery in Japan proves to be bumpy. Among companies present exclusively on the domestic market, we intend to stick with the leaders and avoid those companies that risk seeing their addressable market decline in the face of serious demographic headwinds.